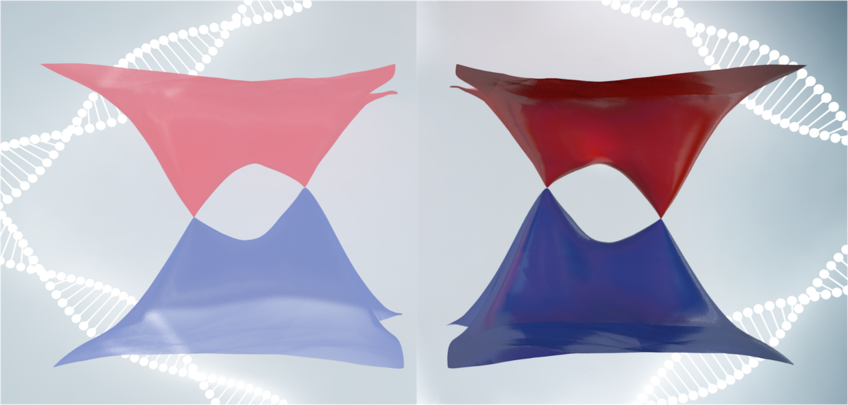 Topological quantum chemistry and beyond
27.-28. October 2022 at the Max Planck Institute for Chemical Physics of Solids
Scope
The objective of the symposium is to bring together leading experts in the field of Topological Quantum Chemistry with researchers in a wide field of solid state sciences, including the physics of correlated systems, superconductivity, magnetic materials, spintronics and quantum computing, synthetic chemistry, surface science and catalysis research, biochemistry and biomineralization. One, if not the most important aspect to be discussed, is the role of chirality inherent to all topological matter, and how it influences the various responses of these materials to electrical transport, light, chemical reactivity etc. as well as the predominance of one chiral enantiomer of biomolecules within life on earth. Also, the possible ways how to harness topological materials for green energy technologies, including hydrogen evolution, possible replacements of rare metals by more abundant ones, batteries, and thermoelectric generators, shall be evaluated. Furthermore, future avenues for Topological Quantum Chemistry and their methods in some neighboring science fields will be explored.
Topological Quantum Chemistry has revolutionized the way how we select inorganic crystalline compounds for relevant research, i.e. materials which show interesting physical properties, and to tailor materials for various challenging technological applications. Calculational tools and databases of such compounds exist nowadays, but the application of this wealth of data to real materials in widespread fields of solid state sciences is ongoing. The symposium is intended to enhance communication and cooperation within this wide and diverse field.
Venue
The event will take place in seminar rooms 1-3 of the institute.
According to the corona regulations at the MPI CPfS a self-test upon entering the institute is required for guests and visitors. Test kits and FFP2 masks are available at the institute.
Hotels