New theoretical methods for correlated electron systems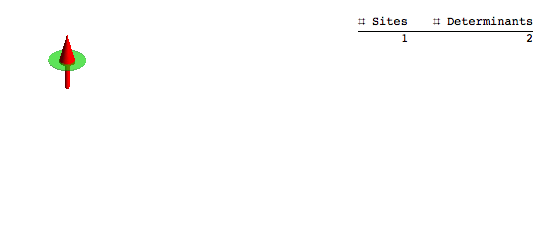 FIG. 1:
The number of Determinants (right column) grows non-polynomial as a function of system size for Quantum many body calculations. We exemplify this by calculating the total number of determinants possible for a Hubbard model (a lattice of H atoms with only one s-orbital per atom) at half filling as a function of the number of lattice sites.
FIG. 2:
Steps taken in the iterative method. We find the maximal 10
9
determinants that describe the state at each time step best optimizing both the many-body wave-functions as well as the one particle orbitals. For more information see [
Haverkort2012
] and [
Lu2014
].
FIG. 3:
All panels show the DMFT impurity Greens function for different values of U ranging from 0 to 2 in steps of 0.25 in units of the bandwidth of G0. The different columns show the spectral function for 3, 11, 31, 101, or 301 poles in the bath Greens function and thus sites in the Anderson impurity calculation and therefore respectively 36, 8.5 10
5
, 3.6 10
17
, 1.6 10
59
179 possible determinants in the many body problem. The impurity Greens function in all calculations consists of 1000 poles. The panels in the top row show the spectral functions broadened with a Lorentzian of full width at half maximum 0.01. The panels in the bottom row show the same spectral functions as the top row, but broadened with a Lorentzian of full width at half maximum 0.1. For more information see [
Lu2014
].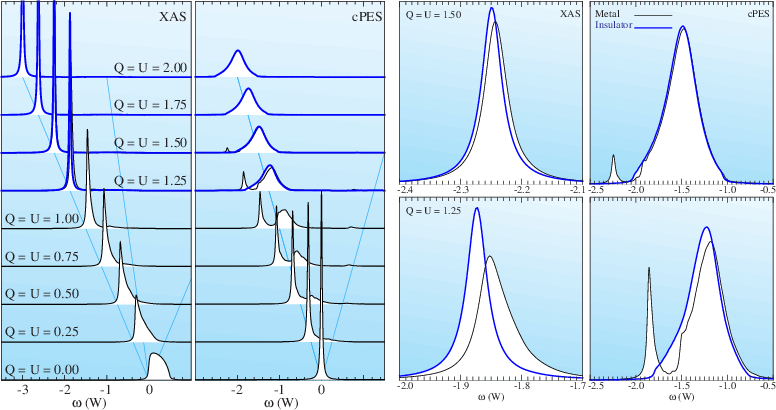 FIG. 4:
X-ray absorption and core level photoemission for a single band Hubbard model solved within the dynamical mean field approximation as a function of the valence-valence Coulomb repulsion
U
and the core-valence Coulomb repulsion
Q
. The spectra of metallic ground-states are plotted with thin black lines, of insulating ground-states with thick blue lines. For metallic ground-states one can see the dynamical screening of the core hole and its influence on the spectral line-shape. For more information see [
Haverkort2014
].