Guest of Saxony's Minister President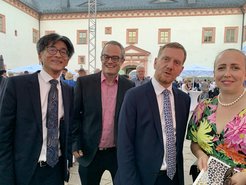 About 900 guests from the worlds of politics, science, business, art, and culture were present at the Sommer Festival of the Saxony's Prime Minister Michael Kretschmer. The event took place at Augustusburg Castle on August 18th under the motto "Make it in Saxony". The Prime Minister welcomed guests from all sectors of society to focus on international skilled workers and their potential for the Saxonian labor market.
The guests included representatives from MPI CPfS – Hao Tjeng, Markus König, and Eteri Svanidze, who had a chance to discuss the importance and impact of international relations in the scientific realm with Saxony's Prime Minister Michael Kretschmer.