Team Planckton beim 20. Drachenboot-Festival Dresden
 
An impressive picture of the 30th Dragon Boat Festival on the banks of the Elbe in Loschwitz and the competitions on the water was presented to the spectators, who strolled across the "Blue Wonder" and in some cases stopped to watch the 62 teams racing.  One of them was Team "Planckton", which consisted of 19 members of the different working groups of the MPI-CPfS (picture of the water flea with shirt). It competed there with 4 other teams from the field of universities and research in the "Technology Cup".
"Ready to win?!" With this saying one team member greeted his teammates when he arrived at the team tent. This saying was spontaneously chosen as the team's battle cry, which resounded every time before the team boarded one of the dragon boats + helmsman or helmswoman provided by the organizer. And this happened three times on this Saturday...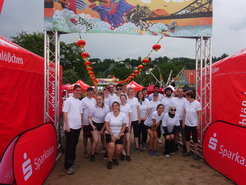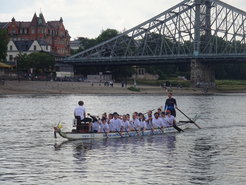 In the very first race of the team the finish photo had to decide - with not even one meter difference the three boats pushed each other over the finish line. Unfortunately, the team "Planckton" could not qualify directly for the final, it had to go into the "hope run" with the two other "losing boats" from two preliminary heats. Full of optimism due to the great performance in the preliminary heat - despite the decreasing synchronicity towards the end - the team paddled the 400 m upstream to the starting line and the starting position at the Blasewitz shore about one hour later. The starting signal was given - and at the same time the paddle steamer "Pirna" departed from the jetty at the Blue Wonder. Despite the organizer's request via loudspeaker to wait two minutes... As a spectator you could clearly see that "our" boat now had to swerve, and thus take a longer way towards the finish. In the middle of the course, the team was also allowed to "suffer" the bow waves of the steamer in the truest sense of the word. The organizer reacted a few seconds after the finish - again, the three dragon heads almost formed a line - with the announcement: "These were unfair conditions and therefore the race will be repeated." Despite high motivation - the question whether the team wanted to compete again was unanimously answered with yes and cheers - the team did not quite manage to move into the final in the third run (within 100 minutes), and thus to enjoy an ice cream cake. But this did not diminish the great mood in the team...