International Conference on Resource Chemistry – ICRC
Beginn:

23.03.2020

Ende:

24.03.2020

Ort:

Darmstadt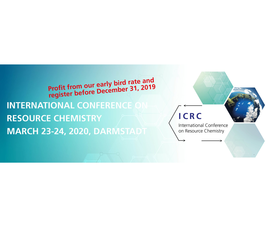 The aim of the event is to discuss current developments in resource chemistry.
In times of increasing pressure on industry and politics with respect to environmental protection and climate change, material sciences and chemistry have to join forces to provide answers to some of the world's most challenging technological tasks. Under the aspect of securing and providing indispensable materials in a limited environment, this conference will especially focus on applied resource chemistry and new recycling technologies.
The conference covers a wide range of research areas, from the substitution of critical elements, to the development of sustainable materials, and the establishment of efficient material life cycles.
This unique and international conference will tackle these challenges and bring together scientists and experts from various fields such as resource & green chemistry, biology, environmental science & technology, as well as material sciences.
Sponsors and Partners:
GDCh - Division of Solid-State Chemistry & Materials Research; TU Darmstadt, PMP - Profile Area From Material to Product Innovation; Max Planck Institute for Chemical Physics of Solids