Rewe Team Challenge 2023:
Our MPI-CPfS runners did us proud!
Five teams of the MPI CPfS successfully participated in the Rewe Team Challenge Dresden, which is one of the largest events of its kind in Germany. On the early summer evening of June 6, our 20 colleagues crossed the finish line in the Rudolf-Harbig-Stadion after five kilometers together with 22000 other runners.
Yesterday they ran again through the streets of Dresden... Many runners of all ages took part in the 14th Rewe Team Challenge Dresden. The running enthusiasts followed a route – depending on their condition very fast to leisurely – from the Kulturpalast over the Terrassenufer in the direction of the "Großer Garten" and after a small loop in front of the Hygienemuseum over the finish line in the home of the football club Dynamo, in the Rudolf Harbig Stadium. Cheered on by music, cheerleaders, teammates and fans. Among the participants were also 20 colleagues from our institute. Although it was not so easy to recognize them in their sporty, elegant green-yellow-gold running shirts (MPG colors!) in the hustle and bustle of the thousands of colorfully dressed fellow runners, we managed to cheer them on and even to take photos of them.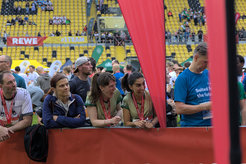 Over 22000 runners – that means over 5400 teams. And so "our" runners were very proud of the team achievements, and of course their own personal performance, which was rewarded with a finisher medal. All team places were in the upper third of the classification classes! But the women's team "Physicists" with Claire Donnelly, Claudia Fernandez Gonzales, Elena Hassinger, and a runner who had stepped in at the last minute for Meike Pfeiffer, who had fallen ill, surpassed all expectations, to all of our delight. With an overall time of 1:38.1 hours, the quartet finished in an excellent fourth place in the women's standings out of more than 400 teams. Only one minute was missing for a place on the podium. As could be heard at the team meeting with cool drinks at the "team car", the team is now to train diligently in the coming months, perhaps also contesting one or the other competition, in order to equal – or even improve on – this result again next year. Interested parties are cordially invited to join the weekly training rounds.